MuleSoft Technical Guides

MuleSoft – GCP BigQuery
BigQuery connecter is an asset to LoB workers as it helps in combining datasets and make well-informed decisions. The capabilities of BigQuery connecter can help in deriving more reliable data insights for Line of Business workers. Google Cloud's strengths are leveraged with the help of BigQuery connecter in MuleSoft Anypoint exchange
Pre-Requisites:
BigQuery's Service account to connect with MuleSoft.
Service Account should have enough privileges to read/write the data from BigQuery's table
Service Account Key Generation:
Go to Google Cloud Platform
From Left Navigation Select IAM & Admin, go to Service Accounts and then click on create Service Account.
Create a Service Account by providing  Service Account Name
Grant Appropriate roles for this account
After successful creation
Go to Service Accounts. Click on Create Key from Actions
Select Key Type as JSON and download the Key file.
Place this file under muleproject/resources.
This key file along with Project id, will be used while configuring Big Query Global Configurations.
Adding Google BigQuery Connector to Project: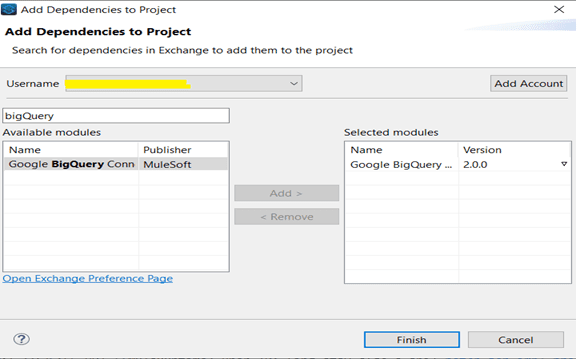 BigQuery global configuration: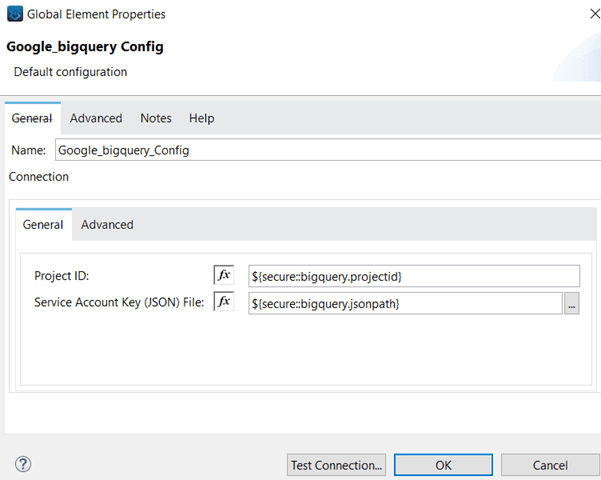 Mule Snippet to
Create Dataset
Create Table
Insert Data to Table

Code Snippet:

<

flow

 

name

=

"

bigquery-gcp-insert-data-flow

"

 

doc

:

id

=

"

fc6c9b26-2785-424a-8b67-73f90129d64c

"

 

>


		

<

http

:

listener

 

doc

:

name

=

"

Listener

"

 

doc

:

id

=

"

04e93f87-271d-492a-baf5-407b620c3199

"

 

config-ref

=

"

HTTP_Listener_config

"

 

path

=

"

/bigQuery

"

/>


		

<

logger

 

level

=

"

INFO

"

 

doc

:

name

=

"

Logger

"

 

doc

:

id

=

"

a1e22fea-114a-49b4-8976-102281bb0326

"

 

message

=

"

Inside GCP Flow

"

/>


		

<

bigquery

:

create-dataset

 

doc

:

name

=

"

Create Dataset

"

 

doc

:

id

=

"

bf5677ff-b9ca-4c7e-821f-ffef95509315

"

 

config-ref

=

"

Google_bigquery_Config

"

 

datasetName

=

"

Test_1

"

/>


		

<

ee

:

transform

 

doc

:

name

=

"

Transform Message

"

 

doc

:

id

=

"

0f730711-b450-4b87-9a59-3fe008968381

"

 

>


			

<

ee

:

message

 

>


				

<

ee

:

set-payload

 

>

<![CDATA[

%dw 2.0
output application/json
---
[{
    "FieldName" : "Name",
    "FieldType" : "STRING",
    "fieldDescription" : "This is name",
    "fieldMode" : "NULLABLE"
    },
{
    "FieldName" : "EmployeeID",
    "FieldType" : "STRING",
    "fieldDescription" : "This is Employee Id",
    "fieldMode" : "NULLABLE"
},
{
    "FieldName" : "Age",
    "FieldType" : "INTEGER",
    "fieldDescription" : "This is Age",
    "fieldMode" : "NULLABLE"
},
{
    "FieldName" : "ContactNumber",
    "FieldType" : "STRING",
    "fieldDescription" : "This is Contact Number",
    "fieldMode" : "NULLABLE"
},
{
    "FieldName" : "Designation",
    "FieldType" : "STRING",
    "fieldDescription" : "This is Designation",
    "fieldMode" : "NULLABLE"
},
{
    "FieldName" : "Salary",
    "FieldType" : "FLOAT",
    "fieldDescription" : "This is Salary",
    "fieldMode" : "NULLABLE"
}
]

]]>

</

ee

:

set-payload

>


			

</

ee

:

message

>


		

</

ee

:

transform

>


		

<

bigquery

:

create-table

 

doc

:

name

=

"

Create Table

"

 

doc

:

id

=

"

04e12735-1f07-4341-a226-139c9b199ca0

"

 

config-ref

=

"

Google_bigquery_Config

"

 

tableFields

=

"

#[%dw 2.0




output application/java




fun parseSchema(schema) =




    schema map ( item , index ) -

&

gt

;

 {




        fieldName : item.FieldName,




        fieldType : item.FieldType,




        fieldDescription : item.fieldDescription,




        fieldMode : item.fieldMode




    }




---




parseSchema(payload)]

"

>


			

<

bigquery

:

table-info

 

>


				

<

bigquery

:

table

 

table

=

"

Employee

"

 

dataset

=

"

Test_1

"

 

/>


			

</

bigquery

:

table-info

>


		

</

bigquery

:

create-table

>


		

<

ee

:

transform

 

doc

:

name

=

"

Transform Message

"

 

doc

:

id

=

"

e8312d6e-3e91-46a4-b751-6da842ca72f5

"

 

>


			

<

ee

:

message

 

>


				

<

ee

:

set-payload

 

>

<![CDATA[

%dw 2.0
output application/json
---
[
    {
        "RowId": "1",
        "Name": "AAAAAA",
        "EmployeeId" : "1234",
        "Age" : 25,
        "ContactNumber" : "11111111111",
        "Designation" : "SE",
        "Salary": 500000
    },
    {
        "RowId": "2",
        "Name": "BBBBBBB",
        "EmployeeId" : "2345",
        "Age" : 22,
        "ContactNumber" : "222222222",
        "Designation" : "SSE",
        "Salary": 1000000
    },
    {
        "RowId": "3",
        "Name": "CCCCCCCC",
        "EmployeeId" : "3456",
        "Age" : 29,
        "ContactNumber" : "3333333333",
        "Designation" : "LEAD",
        "Salary": 1500000
    },
    {
        "RowId": "4",
        "Name": "DDDDDDD",
        "EmployeeId" : "4567",
        "Age" : 27,
        "ContactNumber" : "444444444",
        "Designation" : "MANAGER",
        "Salary": 1900000
    }
]

]]>

</

ee

:

set-payload

>


			

</

ee

:

message

>


		

</

ee

:

transform

>


		

<

ee

:

transform

 

doc

:

name

=

"

Transform Message

"

 

doc

:

id

=

"

b6830088-4b17-4dcd-874b-8e139d30bdb6

"

 

>


			

<

ee

:

message

 

>


				

<

ee

:

set-payload

 

>

<![CDATA[

%dw 2.0
output application/java
---
payload map (( payload01 , indexOfPayload01 ) -> {
    Name: payload01.Name,
    EmployeeId: payload01.EmployeeId,
    Age: payload01.Age,
    ContactNumber: payload01.ContactNumber,
    Designation: payload01.Designation,
    Salary: payload01.Salary,
    RowID: payload01.RowId
})

]]>

</

ee

:

set-payload

>


			

</

ee

:

message

>


		

</

ee

:

transform

>


		

<

bigquery

:

insert-all

 

tableId

=

"

Employee

"

 

datasetId

=

"

Test_1

"

 

doc

:

name

=

"

Insert All

"

 

doc

:

id

=

"

65ec4e0a-6123-4501-bb8a-02f28e1120df

"

 

config-ref

=

"

Google_bigquery_Config

"

 

rowsData

=

"

#[payload]

"

/>


		

<

logger

 

level

=

"

INFO

"

 

doc

:

name

=

"

Logger

"

 

doc

:

id

=

"

3ba21798-7ad3-40d4-8825-616c5747ac2b

"

 

message

=

"

#[payload]

"

/>


	

</

flow

>



Mule Snippet to
Asynchronous Query data from BigQuery Table
Delete Table
Delete Dataset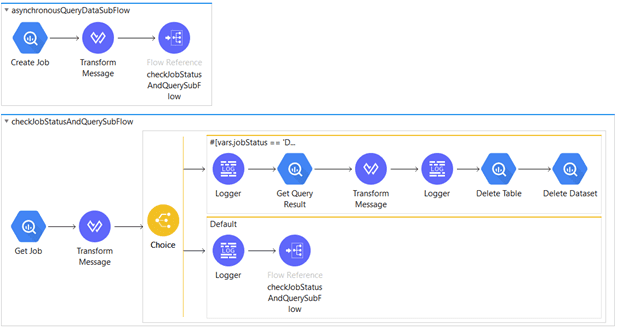 Code Snippet:

<

sub-flow

 

name

=

"

asynchronousQueryDataSubFlow

"

 

doc

:

id

=

"

32ed2391-90fe-4226-b17a-7d773c8a1fbd

"

 

>


		

<

bigquery

:

create-job

 

doc

:

name

=

"

Create Job

"

 

doc

:

id

=

"

01b8a0ab-5729-435b-8198-59aa852426ed

"

 

config-ref

=

"

Google_bigquery_Config

"

>


			

<

bigquery

:

job-config

 

>


				

<

bigquery

:

job-configuration

 

>


				

<

bigquery

:

query-job

 

>


					

<

bigquery

:

query-string

 

>

SELECT  * FROM projectId.Dataset.Table

</

bigquery

:

query-string

>


				

</

bigquery

:

query-job

>


				

</

bigquery

:

job-configuration

>


			

</

bigquery

:

job-config

>


			

<

bigquery

:

job-info

 

/>


		

</

bigquery

:

create-job

>


		

<

ee

:

transform

 

doc

:

name

=

"

Transform Message

"

 

doc

:

id

=

"

be6d3c42-13c4-44d4-abb1-beec17509789

"

 

>


			

<

ee

:

message

 

>


			

</

ee

:

message

>


			

<

ee

:

variables

 

>


				

<

ee

:

set-variable

 

variableName

=

"

jobId

"

 

>

<![CDATA[

%dw 2.0
output application/java
---
payload.jobId.job

]]>

</

ee

:

set-variable

>


			

</

ee

:

variables

>


		

</

ee

:

transform

>


		

<

flow-ref

 

doc

:

name

=

"

checkJobStatusAndQuerySubFlow

"

 

doc

:

id

=

"

39feb8e6-5332-454b-b04f-81c03e91523a

"

 

name

=

"

checkJobStatusAndQuerySubFlow

"

/>


	

</

sub-flow

>


	

<

sub-flow

 

name

=

"

checkJobStatusAndQuerySubFlow

"

 

doc

:

id

=

"

c7b0f3aa-2c5a-4d4e-aa8a-3a36f84b95bb

"

 

>


		

<

bigquery

:

get-job

 

doc

:

name

=

"

Get Job

"

 

doc

:

id

=

"

b5ee2576-76c5-4ba7-875e-b9a03021cc58

"

 

config-ref

=

"

Google_bigquery_Config

"

 

jobName

=

"

#[vars.jobId]

"

/>


		

<

ee

:

transform

 

doc

:

name

=

"

Transform Message

"

 

doc

:

id

=

"

790f443c-78f8-4d01-bccd-f02a26f2425e

"

 

>


			

<

ee

:

message

 

>


			

</

ee

:

message

>


			

<

ee

:

variables

 

>


				

<

ee

:

set-variable

 

variableName

=

"

jobStatus

"

 

>

<![CDATA[

%dw 2.0
output application/java
---
payload.status.state.constant as String

]]>

</

ee

:

set-variable

>


			

</

ee

:

variables

>


		

</

ee

:

transform

>


		

<

choice

 

doc

:

name

=

"

Choice

"

 

doc

:

id

=

"

0985c414-7340-4880-a03e-03d48127eae9

"

 

>


			

<

when

 

expression

=

"

#[vars.jobStatus == 'DONE']

"

>


				

<

logger

 

level

=

"

INFO

"

 

doc

:

name

=

"

Logger

"

 

doc

:

id

=

"

920b9287-bf97-4052-9d94-fb26e7fc81ab

"

 

message

=

"

#[vars.jobStatus]

"

/>


				

<

bigquery

:

get-query-result

 

doc

:

name

=

"

Get Query Result

"

 

doc

:

id

=

"

983fb710-81a7-4f25-9581-153b551f9a02

"

 

config-ref

=

"

Google_bigquery_Config

"

 

jobName

=

"

#[vars.jobId]

"

/>


				

<

ee

:

transform

 

doc

:

name

=

"

Transform Message

"

 

doc

:

id

=

"

be31d357-f6c8-4640-bc21-32ecad34ab8e

"

 

>


					

<

ee

:

message

 

>


						

<

ee

:

set-payload

 

>

<![CDATA[

%dw 2.0
output application/json
var schema=payload.schema.fields
---
payload.values map ((row, index) -> {
    (schema[0].name): row[0].stringValue,
    (schema[1].name): row[1].stringValue,
    (schema[2].name): row[2].stringValue,
    (schema[3].name): row[3].stringValue,
    (schema[4].name): row[4].stringValue,
    (schema[5].name): row[5].stringValue
})

]]>

</

ee

:

set-payload

>


					

</

ee

:

message

>


				

</

ee

:

transform

>


				

<

logger

 

level

=

"

INFO

"

 

doc

:

name

=

"

Logger

"

 

doc

:

id

=

"

ae4bf21e-2809-4a22-a3f0-76228641ec94

"

 

message

=

"

#[payload]

"

/>


				

<

bigquery

:

delete-table

 

doc

:

name

=

"

Delete Table

"

 

doc

:

id

=

"

350b3deb-1ea0-4f47-96b1-cf37322ff038

"

 

config-ref

=

"

Google_bigquery_Config

"

>


					

<

bigquery

:

table

 

table

=

"

Employee

"

 

dataset

=

"

Test_1

"

 

/>


				

</

bigquery

:

delete-table

>


				

<

bigquery

:

delete-dataset

 

doc

:

name

=

"

Delete Dataset

"

 

doc

:

id

=

"

a02f15e3-fb4e-42e7-a38b-8989d06505d9

"

 

config-ref

=

"

Google_bigquery_Config

"

 

datasetId

=

"

Test_1

"

/>


			

</

when

>


			

<

otherwise

 

>


				

<

logger

 

level

=

"

INFO

"

 

doc

:

name

=

"

Logger

"

 

doc

:

id

=

"

17f95175-9133-4173-b1b3-45ff1fd66e19

"

 

message

=

"

#[vars.jobStatus]

"

/>


				

<

flow-ref

 

doc

:

name

=

"

checkJobStatusAndQuerySubFlow

"

 

doc

:

id

=

"

7916a719-dfa7-4051-aca2-37b7102446da

"

 

name

=

"

checkJobStatusAndQuerySubFlow

"

/>


			

</

otherwise

>


		

</

choice

>


	

</

sub-flow

>



Mule Snippet to
Synchronous Query Data.
Dynamic Field mappings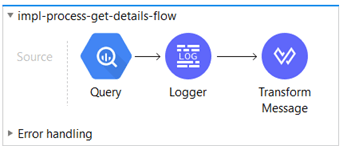 Code Snippet:

<

flow

 

name

=

"

impl-process-get-details-flow

"

 

doc

:

id

=

"

a8c8480f-060e-4d6f-80c4-b3d1eace437e

"

 

>


		

<

bigquery

:

query

 

doc

:

name

=

"

Query

"

 

doc

:

id

=

"

328aefbb-9399-425f-94b1-bd6d7016bb28

"

 

config-ref

=

"

Google_bigquery_Config

"

>


			

<

bigquery

:

query-job

 

allowLargeResults

=

"

true

"

>


				

<

bigquery

:

query-string

 

>

#[payload.query]

</

bigquery

:

query-string

>


			

</

bigquery

:

query-job

>


			

<

bigquery

:

job-info-options

 

/>


		

</

bigquery

:

query

>


		

<

logger

 

level

=

"

INFO

"

 

doc

:

name

=

"

Logger

"

 

doc

:

id

=

"

27ee05ed-3e39-46d7-9e73-8be89cc0e46e

"

 

message

=

"

Query executed

"

 

category

=

"

${logger.category}

"

 

/>


		

<

ee

:

transform

 

doc

:

name

=

"

Transform Message

"

 

doc

:

id

=

"

59533f5f-7f9e-4ea3-ad57-a55b8f082124

"

 

>


			

<

ee

:

message

 

>


				

<

ee

:

set-payload

 

>

<![CDATA[

%dw 2.0
output application/json
var schema=payload.schema.fields
---
(payload.values map ((row, index) -> {
	"data" : (schema map ((schemarow, schemaIndex) -> {
    (schema[schemaIndex].name): row[schemaIndex].value
    })) reduce ($$ ++ $)
    })).data

]]>

</

ee

:

set-payload

>


			

</

ee

:

message

>


		

</

ee

:

transform

>


	

</

flow

>